Eco-friendly mind
KYOTECH Co., Ltd. and KYOLITE Co., Ltd. are committed to being a truly sustainable business. We at KYOTECH group have set environment policy "KYOTECH group is committed to care and protect our environment." since we got Environmental Management Systems (ISO14001) certificate in May 2002.
We have strived to reducing environmental footprint and providing eco-friendly products.

We independently set more strict water quality standards than related regulations for wastewater from our factory.
We check the water quality to be lower than the reference values by daily monitoring and periodic inspections by professionals.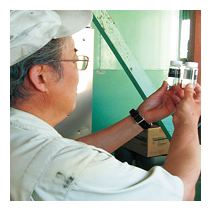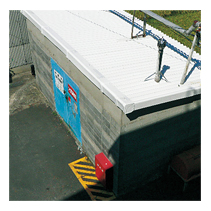 By applying the thermal-barrier coaring on the roof of the dengerous goods warehaouse in the factory, we effectively suppressed increase in temperature in the warehouse.
We accomplished to lower the temperature 4°C or 5°C without air conditioning system.

We are working on developing echo-friendly products under the EU RoHS directive, such as PTC (Positive Temperature Coefficient) Electric Floor Heating systems in which does not have any specific chemical substances.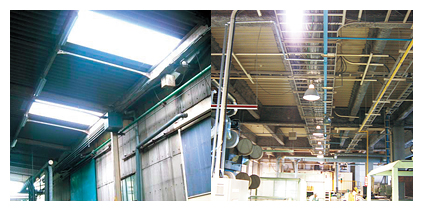 To effectively use the limited energy without wasting, we manage the consumption of energy, such as the clectricity, and work on energy saving activities to reduce environmental impact.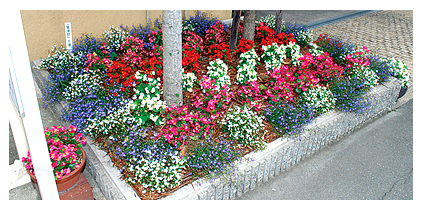 We work on creating comfortable environment for visitors, neighbors and employees.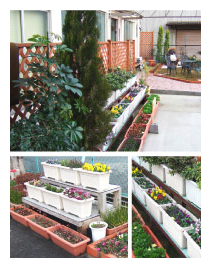 Activities of Interior division, Techno-printing division and KYOACE.
At Interior division, Techno-printing division and KYOACE, flowers are planted to make employees and all the visitors feel bright and happy.
Flowers have been transplanted three times a year. Therefore, some flowers bloom all year.
Activities of Techno-printing division.
The division has increased green in the open space little by little, and made the garden terrace as the place of recreation and relaxation for visitors and employees.
It have gotten good reputations in the company, and the division receiveded an award as model of other departments.

They also glow flowers at visitors parking lot.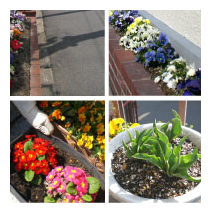 Activities of KYOTECH head office.
At the head office, seasonal flowers have planted for 4 years. we have tried to make company entrance environment which can make visitors, neighbors, and employees feel refreshed.
At the flower beds in front of KYOTECH head office, we have sesonal flowers throughout the year.
They are liked by our neighbors.